Erika Ranee
Alone with My Thoughts
Since June, NYC painter Erika Ranee has documented the step-by-step method of creating a new painting, ultimately titled "Alone with My Thoughts."
Edition No.16 of KLAUSGALLERY.cloud brings us into Ranee's process, shuttling a canvas between her home in Manhattan and her Brooklyn studio and offering us a glimpse at the ways she uses her materials in multiple stages and techniques to arrive at a finished work.
Ranee's practice involves working a painting's surface with a variety of materials from spray paint to shellac to acrylic, adding drawn marks and collage elements, and shifting the orientation of the canvas as she works.
Her interests lie in capturing a succession of moments through the painterly process, ultimately creating expressive forms with investigative experiments using texture and color.
[Ranee's] paintings…conjure passage through urban streets, with colors and marks that are fresh and distinctly of our time. They evoke the feeling of moving through a timeless terrain where our words or memories are embedded in matter – surfaces that are touched, adorned, and marred.
– Jennifer Samet, Hyperallergic

In June 2022, Ranee's work on "Alone with my Thoughts" began when she picked up a canvas that she had first started in 2014.  Ranee and her teenage niece, at that time, had created a series of eyes and colors on the surface and then set the painting aside on hiatus for years.
From the first marks on the canvas, to additions of collage and poured paint, to the final layer of spray paint, the painting evolved over several weeks this summer.
I never throw away or destroy a canvas. To me they have good bones for eventual completion; it's just a matter of when.
– Erika Ranee, BOMB Magazine, 2022
Ranee began this process by incorporating collage elements taken from scraps of paper acquired while on residence at the Vermont Studio Center in 2009. There she found a bag of discarded children's drawings leftover from an onsite workshop, and has subsequently used its contents as source material for her paintings. The upper half of this painting contains a scrap of paper with an ink drawing showing part of a tree.
Next, she layered paint on the surface of the canvas in a reactive manner, with dark areas applied along with splashes of translucent white.
Later, working on the floor, she added in more layers of blacks and blues, followed by a coating of shellac and water, seen here as a liquid clear shine.
A drippy white expressively drawn focal point was introduced into the composition next.
The line was then diffused with water while Ranee investigated its movement across the surface in shape, color, and mark.
In the last stages of this painting I felt as if I was channeling a sculptor looking at a block of wood, envisioning its eventual form. Gradually, I carved away the black and blue spaces to reveal the final story.
– Erika Ranee
Areas were repeatedly collaged, painted on, incised, replaced and reworked.
In the final stages Ranee blocked out more geometric, hard-edged areas with opaque white.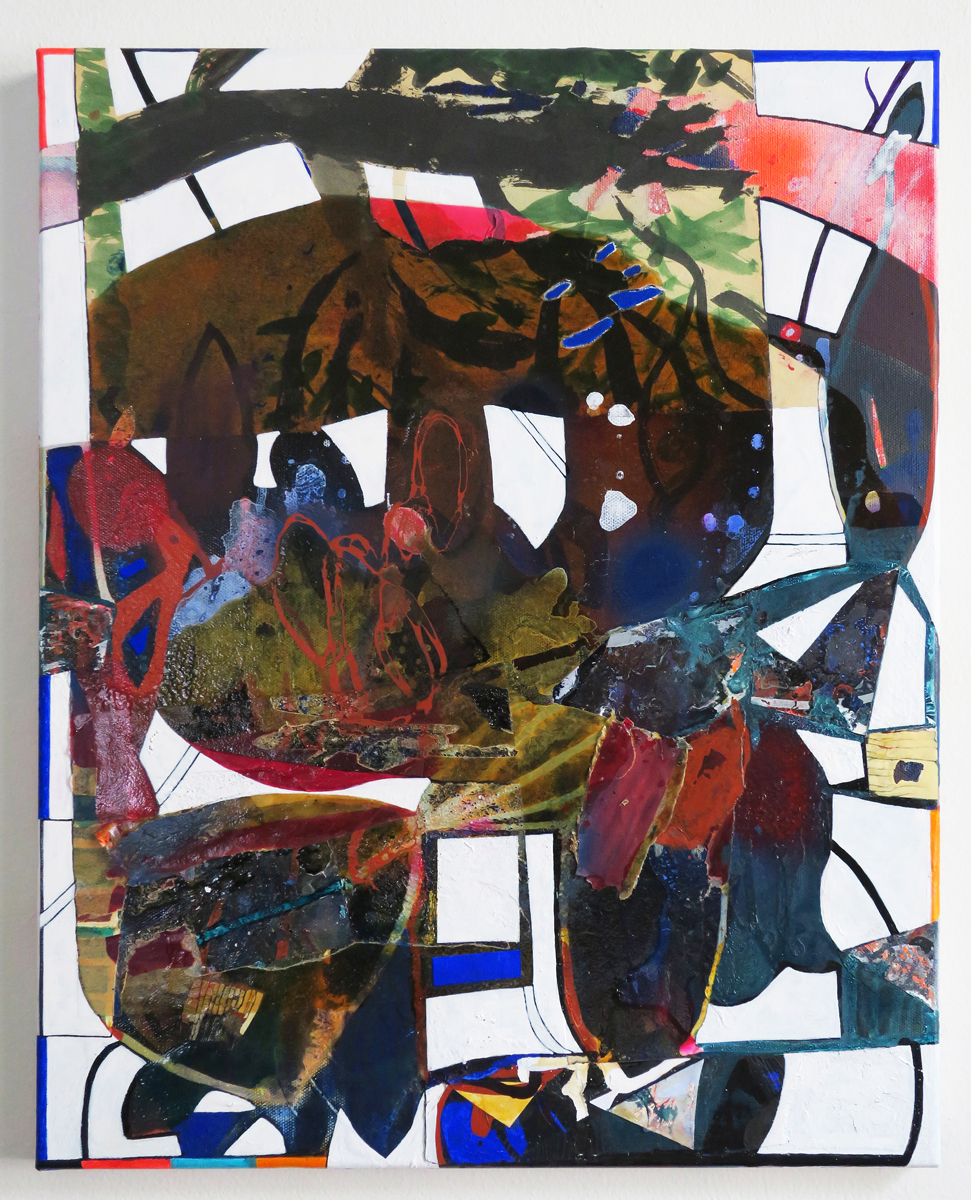 The edges, finally, were honed with a colorful border, locking in the composition and finishing the painting on August 1st, 2022.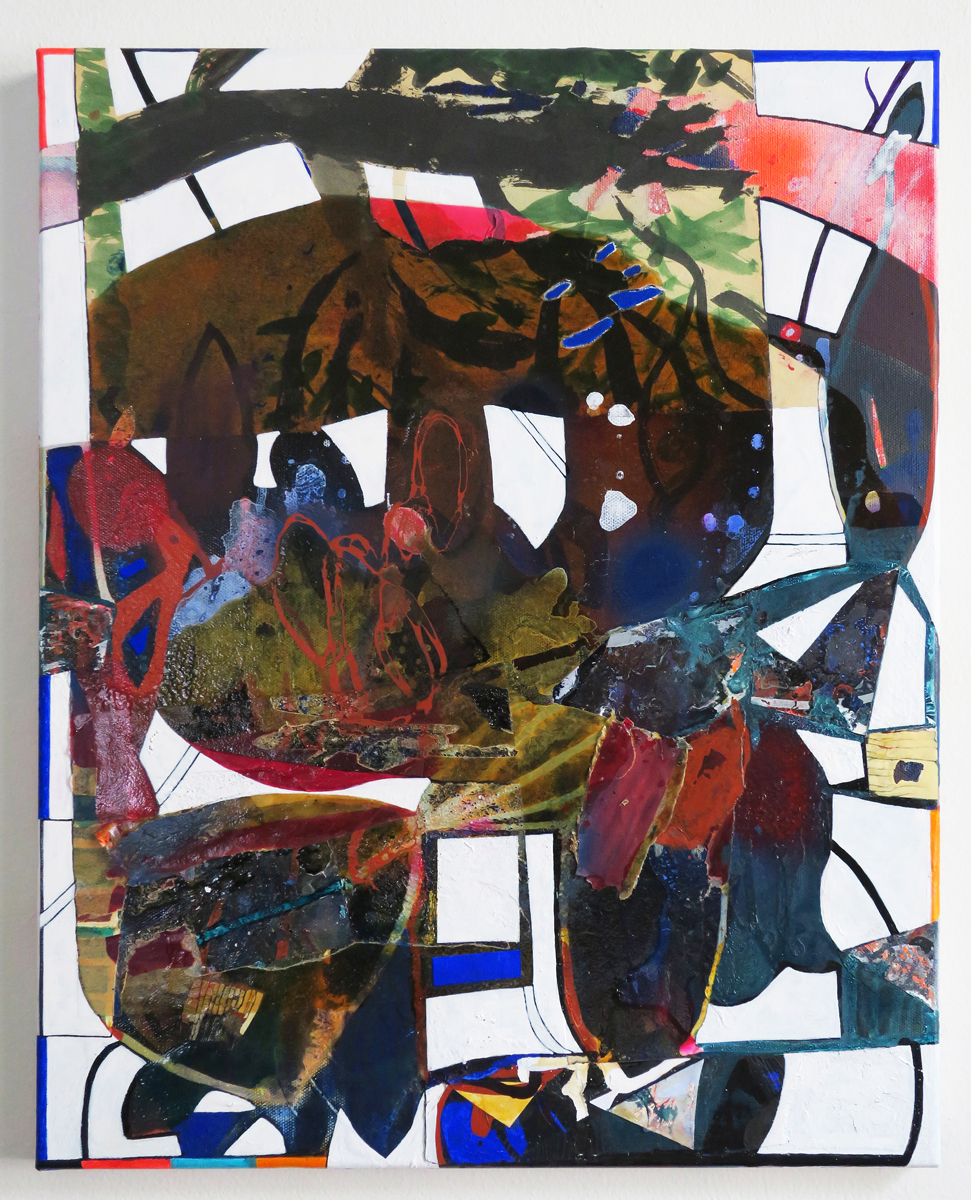 Erika Ranee
Alone with My Thoughts, 2022
acrylic, shellac, ink, graphite and collage on canvas
20 x 16 inches (43.18 × 27.94 cm)
$4,500.00
INQUIRE
In Erika Ranee's paintings, there is a sense that the meshwork of dripped and poured lines leads the process, meandering about the canvas to generate an unexpected narrative.

– Sharon Butler, Two Coats of Paint