Amna Asghar appropriates, layers, and remixes imagery from personal archives, popular culture, and art history, allowing the interactions to conjure hybrids and reflect the complexities of the location of identity. Her use of "orientalist" artworks by French painter Jean-Léon Gérôme, intertwined with materials sourced from her family's Pakistani culture and her own experiences in the American visual landscape, transform these outtakes into generative works of art.
[The paintings] are pleasing, but potentially tainted, as many would say that the appropriated imagery originally depicted Africa with the romanticized condescension that Said deplored. . . . they might impart the idea that interpretations, however flawed, are part of history and sometimes, broken down and recapitulated, can yield unobjectionable components of lasting value. The [work] makes the case with considerable sophistication, and without denigrating the notion of truth.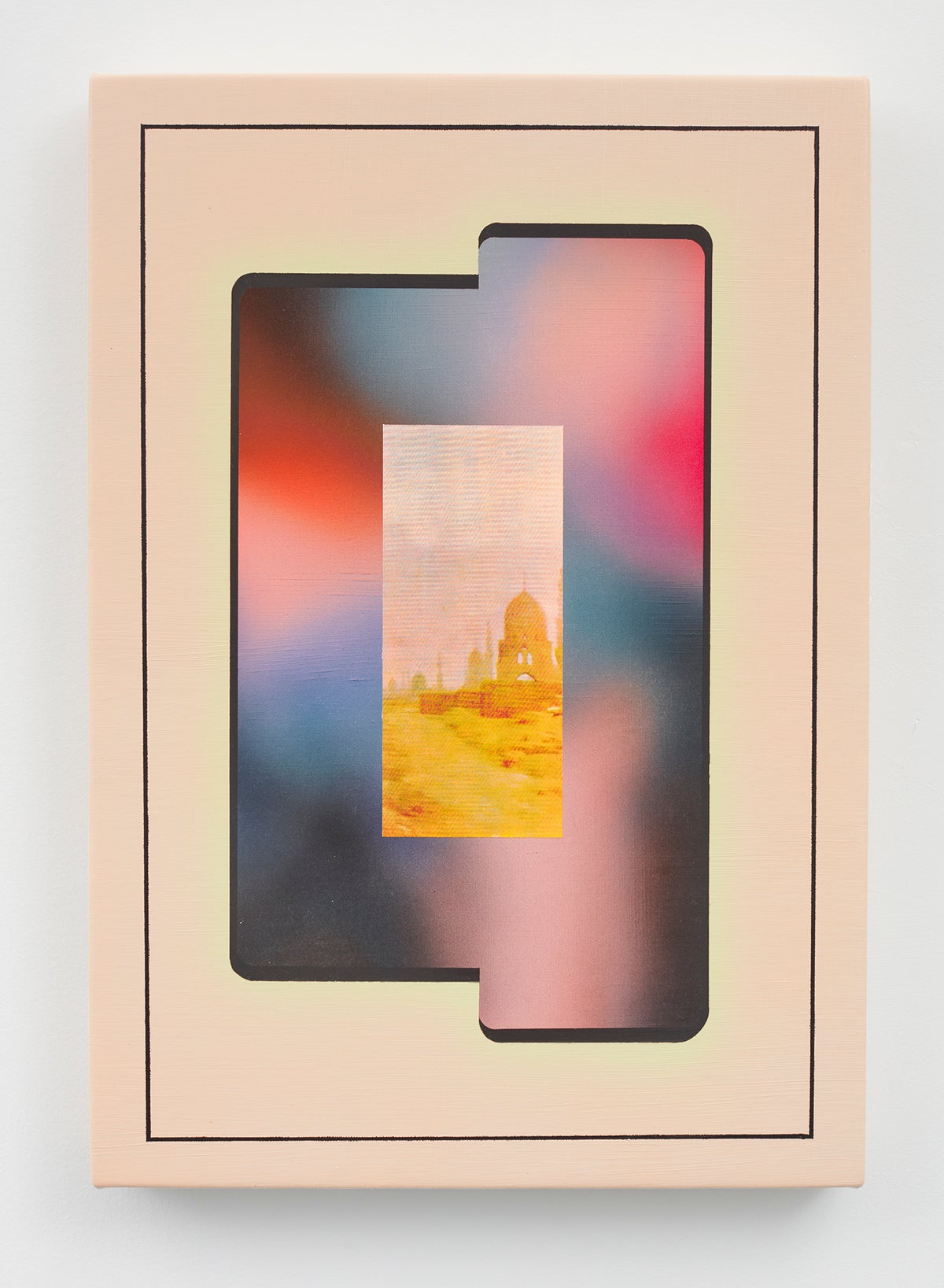 Portal II (Egypt), 2019
screenprint and acrylic on canvas
20 × 14 inches (50.80 × 35.56 cm)
Portal II (Egypt) weaves together imagery from sources running throughout Asghar's work. The framing in this painting is an orange-toned color matching the aged paper of her mother's Pakistani Digest magazines. The black border and rectangular bubble shapes are taken from advertisements found in those publications. The center of the painting holds reproductions of images created in the Western hemisphere describing the East. Asghar employs methods such as spray painting and printmaking alluding to the mass production of "Orientalist" imagery circulating in the West.
"The foggy images that you see in Portal II (Egypt) are of refugees traveling from the East to the West. They're from CNN's website, where you have to click an extra button before sensitive content is revealed to you. I'd been thinking about color fields as spaces of rest, but in this case, it's a way of blocking out something very violent. "
– Amna Asghar as told to Emily Watlington, Art in America
Mimicking pop-up windows, a screenprint of Jean-Léon Gérôme's painting, Napoleon in Egypt, rests atop the blurred CNN image in Portal II (Egypt). Asghar visually oversimplifies her rendition of the painting by reducing the color, cropping the image, and removing the figure. She equates her treatment with Gérôme's over simplistic representation of the "Orient."
"The quality and the color of Gérôme's paintings is so attractive: I love them, but I also want to pervert the perverted." — Amna Asghar
[Asghar] has created a cultural vocabulary of her own. It was interesting to see a young Pakistani-origin artist exploring her heritage and connections through objects found in a typical immigrant household.
Boom Boom (Chori Chori), 2017
Acrylic and screen print on canvas
40 × 27 inches (101.60 × 68.58 cm)
This painting exemplifies a shift in Asghar's practice from creating slices of imagery to collage format. The main sections in this piece are taken from Disney movies, Aladdin on the left as a solid saturation, and The Jungle Book on the right as a murky, transparent greenish haze. The Jungle Book portion is layered over a Basmati rice ad found in Pakistani Digest magazines. Asghar takes the text "Boom Boom" and the decorative motive "Chori Chori" from the 1980s Pakistani pop-music cassette tapes sitting in her parents' basement. These contemporary sources (Disney and pop-music) are set on top of Gérôme's painting The Snake Charmer, which is printed on the cover of Edward Said's Orientalism.
Asghar in her studio carefully cutting masking tape to create a stencil.
Pictured above is the finished stencil for a dropshadow on the "Boom Boom" text.
Les Deux Majestés
"I'm corrupting . . . Gérôme's Les Deux Majestés (The Two Majesties), 1883, which shows a lion looking at a sunset, as if straight out of The Lion King [1994]. My reference isn't the actual painting, but a JPEG I found on Google. I cropped it, showing only bits of the sky. A few of the canvases are straight [four-layer] CMYK [screen prints], but I kept making more and more using different colors until I got something that I liked. I thought of this as analogous to finding an image on Google, where you can see the same painting in a bunch of different colors: sometimes the sky will look very yellow, sometimes more pink."
— Amna Asghar told to Emily Watlington, Art in America
Les Deux Majestés I, 2019
screenprint on canvas
10 × 7 ½ inches (25.40 × 19.05 cm)
Les Deux Majestés II, 2019
screenprint on canvas
10 × 7 ½ inches (25.40 × 19.05 cm)
Les Deux Majestés III, 2019
screenprint on canvas
10 × 7 ½ inches (25.40 × 19.05 cm)
52 Dates, 2018
acrylic and screen print on canvas
diptych: 40 × 35 inches (101.60 × 88.90 cm)
This is a two paneled piece: on the left the artist's last name, on the right collaged imagery. The layered collage is comprised of a screenprinted Shan Masala ad for red pepper, a hand drawn palm tree from a box of dates, and the text – "Fifty Two Dates Grown in Fairness".
"Fifty Two Dates Grown in Fairness" is a reference to skin whitening ads made in Pakistan. These ads, like many beauty products, declares how many days the product should be used before showing any results. The original text was "six weeks to a fairness like never before." Once Donald Trump was inaugurated in 2016, Asghar started using his time in office as the length of time it would take to "a fairness like never before". In Asghar's work, the time to "fairness" for brown women continues to get longer as the Trump presidency progresses. 52 Dates was painted 1 year into his presidency.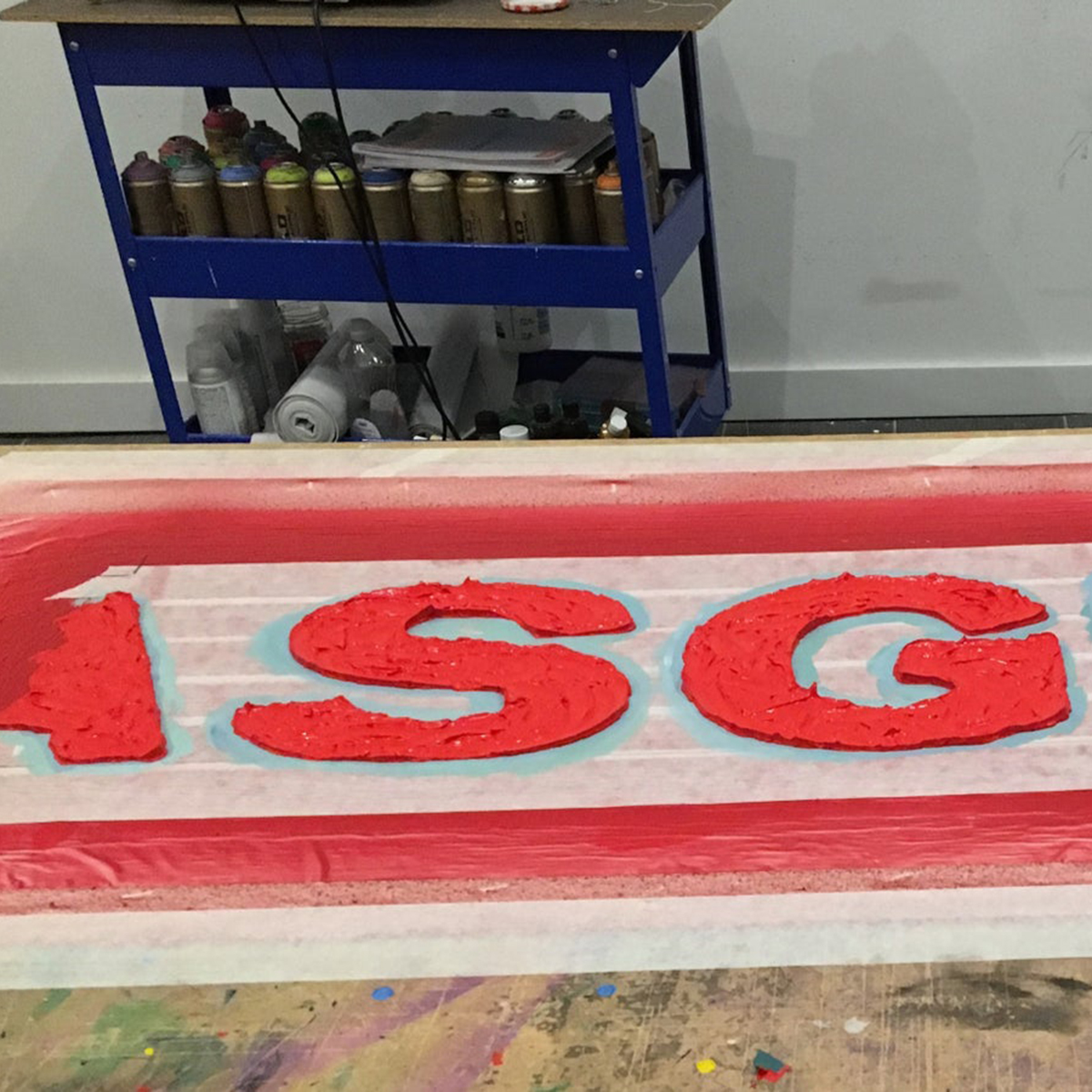 The text on the left hand panel of 52 Dates is created out of thick acrylic paint pushed through a hand-cut stencil. Thebrand identity comes from (omit "the") cassette tape album sleeves found in her parents' basement from a record label named Asghar International. "Seeing my name printed somewhere is so rare, but going through Pakistani ephemera I found this." —Amna Asghar
Asghar airbrushed a gradient over a screenprinted Shan Masala ad for red pepper that was originally from a Pakistani Digest magazine. Later she added the text and palm tree illustration. "I have always loved going to grocery stores and looking at packaging in any new place I go. When I moved to Hamtramck [a city in Michigan almost entirely surrounded by the city of Detroit], I collected a lot of food packaging wrappers." —Amna Asghar